According to the Northwest Avalanche Center (NWAC), a skier was killed in an avalanche Saturday, December 11, in Silver Basin, a closed area of Crystal Mountain, Washington, that ski patrol had not mitigated for avalanche hazard. Six skiers from the same party were caught in the slide. The Pierce County Medical Examiner's Office has identified the deceased as Robert "Bob" Weisel, 66, of Issaquah, Washington. This is the U.S.'s first avalanche fatality of the 2021/22 season.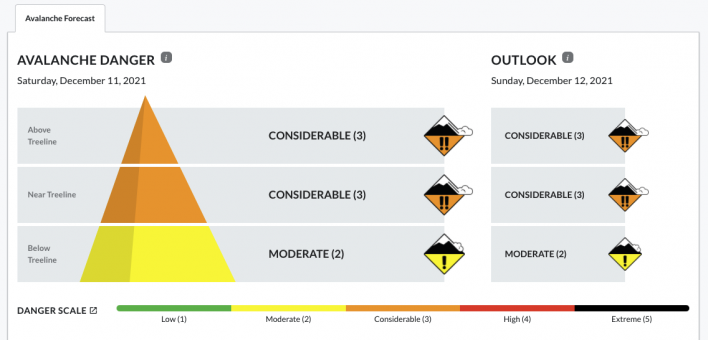 After a long dry spell that has plagued much of the continental United States this winter, Crystal Mountain reported receiving 12 inches of snow in 24 hours with winds up to 100 mph at the summit Saturday. NWAC's Friday evening advisory rated the avalanche hazard as considerable near and above tree line. "Look for storm slabs to develop on Saturday at all elevation bands as the West South is targeted by a potent winter storm," warned NWAC in its report of the newly forming storm slab, which was resting atop another recent storm layer and a crust from late November. NWAC advised those entering the backcountry to "choose conservative terrain and realize that early season conditions still exist."
Silver Basin, where the fatality occurred, is a north- through east-facing slope at approximately 6,500 feet that is marked as a black diamond when open. According to NWAC's preliminary report, the six individuals were traveling uphill when they triggered a large avalanche. Another party of two in the area that witnessed the avalanche reported it to Crystal Mountain Ski Patrol at 10:50 a.m. and assisted in the rescue. Four skiers were partially or fully buried, three of whom were successfully recovered. The fourth skier was found unconscious and did not respond to resuscitation efforts. All skiers involved were carrying avalanche equipment.
A statement from Crystal Mountain following the fatality read, "As snow continues to fall, Crystal Mountain Ski Patrol reminds backcountry skiers to research uphill travel policies and check the avalanche forecasts before heading into the backcountry."
Editors' Note: This piece was updated on Monday, December 14, to include the victim's name.