Colorado's Eagle County Sheriff's Office confirmed late Thursday the death of a skier in the East Vail Chutes, a popular backcountry area beyond the boundaries of Vail Ski Resort. Following an avalanche earlier this week that killed three skiers in Colorado's San Juan Mountains, this marks the fourth fatality in the state in less than a week.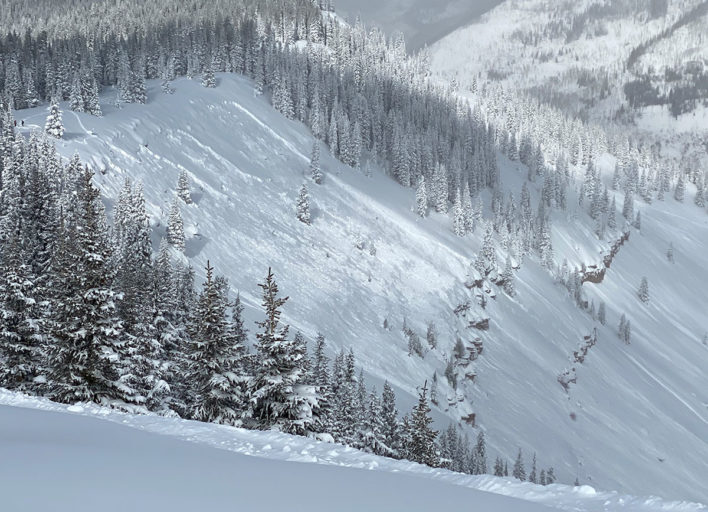 According to a media release from the Eagle County Sheriff's Office, Vail Mountain Rescue Group and Vail Ski Patrol responded to the scene around 12 p.m. on Thursday. The Eagle County Coroner's Office has identified the victim as 41-year-old John Kuo, whom the Colorado Sun called a longtime Vail skier known among friends as "Johnny Tsunami."
In a preliminary summary, the Colorado Avalanche Information Center (CAIC) reported that Kuo exited Vail Ski Resort through a backcountry gate and traveled into the area known as Marvin's within the East Vail Chutes. The avalanche broke on the east-facing line at 11,450 feet, fracturing approximately 700 feet wide and running 1,000 vertical feet. Companions and others in the area recovered Kuo and performed resuscitation efforts prior to the arrival of rescue authorities.
According to the Colorado Sun, Vail Ski Resort reported 13 inches of new snow on Thursday. CAIC had reported avalanche danger as high for through the Vail/Summit County, Sawatch, Aspen and Gunnison forecast zones on Thursday, following the issuance of an avalanche warning for Gunnison and Aspen earlier in the week. By Friday, that warning encompassed the Vail/Summit County and Steamboat/Flat Tops regions and extends through Saturday morning.
"Strong westerly winds and more snow throughout the day will rapidly make slopes unstable," forecaster Kreston Rohrig wrote in Friday's avalanche report for Vail/Summit County. "Avoid traveling on or underneath any avalanche terrain today. Under these conditions, many slopes may reach their breaking point and fail naturally or very easily with your added influence." Avalanche danger is expected to remain elevated through the weekend.