From a crop of more than 50 backcountry boots tested in March at Powder Mountain, Utah, we've selected the best six models for 2015 based on overwhelming tester feedback and cutting-edge innovation. Looking for the lightest, auto-locking touring boot or the most versatile, in- and-out-of-bounds option? You'll find it among these six standout backcountry boots.
But these aren't the only boots that rose to the top at Gear Test Week, and this isn't all we have to say about them. Subscribe by the end of August to get the 2015 Gear Guide or order a copy, here, for the full reviews of these products, plus more than 30 additional Gear Guide Selects.
DALBELLO PANTERRA 120 ID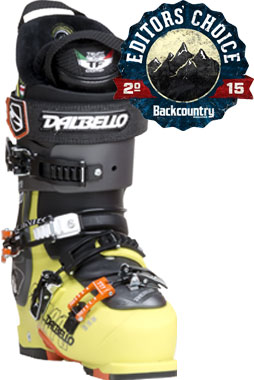 $750 – DALBELLOSPORTS.COM
WEIGHT/PAIR: 9 lbs. 10 oz.
SIZES: 25-30.5 | LAST WIDTH (mm): 100-102
+ "Comfortable and warm liner."
– "Walk mode was kind of a novelty."
= A versatile boot for basically everyone who rips.
TECNICA COCHISE PRO 130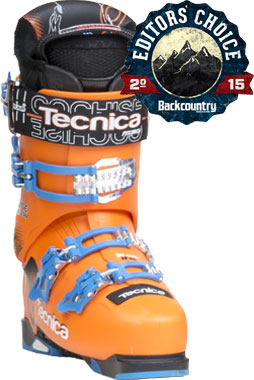 $850 – TECNICAUSA.COM
WEIGHT/PAIR: 8 lbs. 13 oz.
SIZES: 22-31 | LAST WIDTH (mm): 98
+ "The buckle powerstrap is amazingly convenient when touring or transitioning."
– "Could use slightly more rear support."
= The complete package for resort-based adventure.
DYNAFIT NEO PX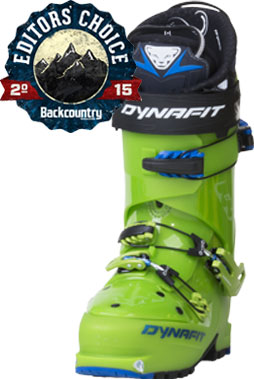 $650 – DYNAFIT.COM
WEIGHT/PAIR: 6 lbs. 11 oz.
SIZES: 25-30 | LAST WIDTH (mm): 103
+ "Love the deep heel pocket—really locks you in."
– "The loop and gate buckle design can be a bit frustrating."
= "They ski great, tour comfortably and are less expensive than many other top-rated boots."
LA SPORTIVA SPECTRE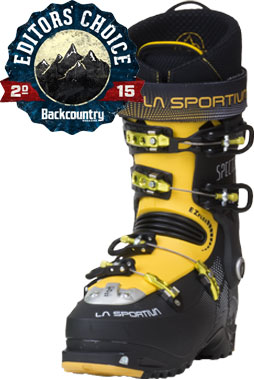 $599 – SPORTIVA.COM
WEIGHT/PAIR: 6 lbs. 6 oz.
SIZES: 25-31.5 | LAST WIDTH (mm): 103
+ Lightweight, light price, wide range of motion.
– "This boot skis extremely upright. I had to fight to keep forward pressure."
= No better all-around boot at this price. Period.
SCOTT SPORTS CELESTE II W'S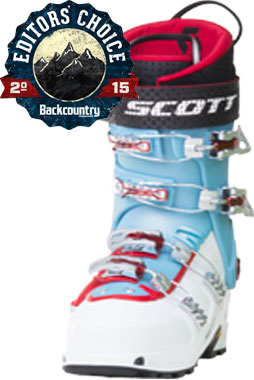 $800 – SCOTT-SPORTS.COM
WEIGHT/PAIR: 4 lbs. 15 oz.
SIZES: 23-27.5 | LAST WIDTH (mm): 103.5
+ "An impressive mesh of power yet minimalist uphill weight."
– "Not the glass slipper for a low-instep foot."
= A high performance AT boot that'll drive any skis in the backcountry.
SCARPA F1 EVO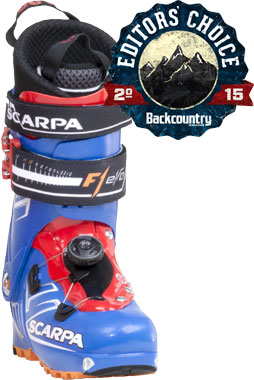 $699 – SCARPA.COM
WEIGHT/PAIR: 4 lbs. 14 oz.
SIZES: 24.5-31 | LAST WIDTH (mm): 102
+ "Power/skiability match up well with the TLT6. (I skied one on each foot)."
– "I couldn't crank the Boa tight enough to really shrink the lower shell."
= Revolutionary design skis and tours with aplomb, but will it hold up to day-in, day-out abuse?