For the last 13 years, we've assembled a huge crew and a massive quiver of gear at Powder Mountain, Utah, for a week of testing. But last winter, with the pandemic hanging over the nation, we changed plans and brought the test to the people. Across 10 states and with 75 testers, we ran 124 skis, boots and bindings through the wringer to find this year's best gear. They narrowed those down to 35 Editors' Choice awards, which name the top pieces of gear in each category.
You're here because you're not super worried about weight. You've got strong legs and you're looking for something that can handle deep snow and big cliffs. Instead of skinny little couloirs, you seek out wide-open pow fields and pillow lines.
Look no further. According to our testers, these five fatties (or almost fatties) can do pretty much anything, if you provide the muscle.
Völkl Blaze 106
$700 — volkl.com | DIMENSIONS (mm): 146/106/128 | LENGTH (cm): 165, 172, 179, 186 | WEIGHT/PAIR: 3186g (165)

"Don't let the weight fool you," a Smugglers' Notch tester commented. "The Blaze 106 is a light, stiff all-mountain tool." Another Vermonter said, "I was pleasantly surprised with how it laid over on fresh corduroy and was rewarded with snappy, solid turn initiation," he said. "This ski is light enough for backcountry adventures and strong enough to play in the resort all season…could easily be your quiver of one."
Ideal use: Völkl intended the Blaze for freeride turns in the backcountry, so that's probably how you should ski it. Some testers lamented that it didn't feel trustworthy on firm snow, but others disagreed.
---
Scott Sports Superguide Freetour
$850 — scott-sports.com | DIMENSIONS (mm): 136/105/124 | LENGTH (cm): 169, 178, 185 | WEIGHT/PAIR: 3220g (185)

"Really fun do-it-all ski," a Tahoe tester wrote. "Solid on edge, solid underfoot. At home in all conditions." One Kirkwood-based tester, who skied the Freetour after a two-foot storm cycle—inbounds and touring—found them highly predictable in all types of snow: "Definitely trustworthy in the backcountry." In the Tetons a tester noted they "handle soft crud extremely well." "Plowed through crud and slush with ease," a Wasatch skier reported after a warm spring day.
Ideal use: Powder to crud to slush, our testers say. Like with many skis that are larger than 100 mm at the waist, at least one tester found the edge hold to be less than ideal. If you're looking for a narrow option, try the Superguide 95 ($800, 130/95/115) and 95 W ($800, 128/94/113).
---
SALOMON QST Lumen 99
$725 — salomon.com | DIMENSIONS (mm): 134/99/116 | LENGTH (cm): 153, 159, 167, 174 | WEIGHT/PAIR: 3480g (167)

"I love a ski that takes no 'getting used to,'" said one who skied a chundery day inbounds at Grand Targhee. "Great all-around skis…probably going to buy these." Said another Tetons skier, ""Can this ski read minds?" she wondered. "Because it seemed to do everything I wanted before I even asked. Playful, reliable and able to work all conditions."
Ideal use: Dropping backcountry cliffs and finding face shots. One Montana tester who was not enamored with the bulk said, ""The weight will perfect your skinning shuffle technique," but everyone else seemed to think they can do just about anything.
---
HEAD Kore 99
$800 — head.com | DIMENSIONS (mm): 134/99/120 | LENGTH (cm): 156, 163, 170, 177, 184, 191 | WEIGHT/PAIR: 3600g (177)

"This is a missile: fast, powerful and ready to smash any conditions," a freeride coach noted of the 184 length. "Damp, fun, super smooth and stable."
Ideal use: Big lines and deep snow, but not for the faint of heart. These are the kind of ski that can take you for a ride, so buckle up. "Not for the timid or hesitant skier. Will only respond to really being pushed," a Tahoe skier said.
---
SALOMON QST Blank
$900 — salomon.com | Dimensions (mm): 138/112/127 | LENGTH (cm): 176, 186, 194 | WEIGHT/PAIR: 4400g (186)

"The Blank is a slarvy, playful, rockered powder ski," one Bozeman tester observed after skiing a fresh six inches. "Predictable and easy to ski like most of Salomon's skis." Another, after testing the Blank in all manner of conditions, likened it to a 4×4 F250 with studded tires: "There's nothing you can throw at them that they can't handle."
Ideal use: Even bigger lines, deeper snow, taller cliffs. Probably resort days, too, unless you're built like a brick you know what. "Best suited for the resort or for a skier with tree-trunk legs," our tester said. "For the right person, these skis have no speed limit."
---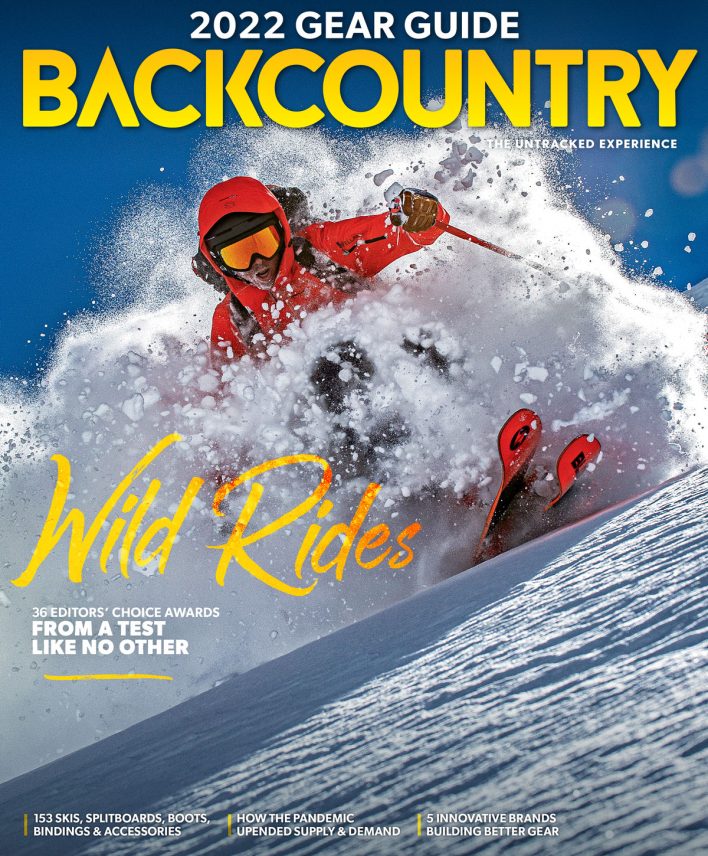 Get your copy of the 2022 Backcountry Gear Guide with in-depth reviews of all 35 Editors' Choice winners, plus additional reviews of 153 skis, splitboards, boots, bindings, apparel and accessories.