Testing skis for the Backcountry Magazine Gear Guide can be a grueling endeavor—with hours upon hours of hot powder laps, edge-to-edge action on groomers, the occasional crud-busting run, and of course, flip cup practice—and our testers for the 2018 Gear Guide found it all at Powder Mountain, Utah. Skis, boots and bindings are all put through the ringer to find the standouts, with each ski tested eight times, three for boots and bindings. To get a sense of who's putting in the work, we introduce Testers' Choice profiles and picks, so you can be sure you're getting the info right from the source. 
Want to see in-depth tester feedback on these products? Subscribe now to get the 2018 Gear Guide, packed with reviews of all the Editors' Choice winners, plus more than 200 other must-have skis, splitboards, boots, bindings, apparel and accessories.
AGE 39
5 feet 4 INCHES, 125 lbs.
Gallatin Gateway, Mont.
CURRENT SETUP
Black Diamond Starlet skis, Dynafit Mercury TF boots, Dynafit TLT Vertical bindings
GEAR PREFERENCE
"I look for light weight and have nothing to prove—no knee cartilage or a real ACL either. I'm considering getting a beefier ski where I would trade weight for meat."
Salomon Explore 88 W
$725 – salomon.com | SIZES (cm): 153, 161, 169 | DIMENSIONS (mm): 121/88/107 | WEIGHT/PAIR: 5.2 lbs. (161) | TESTED LENGTH: 161
[aesop_quote type="pull" background="#282828″ text="#ffffff" width="90%" align="left" size="1″ quote="Surprisingly stable and solid for its weight; unassuming but kicks major ass; held and edge like a needle on a Beastie Boys record. You can trust this ski with your deepest, darkest secrets. " cite="—Becca" parallax="off" direction="left" revealfx="off"]

---
Völkl 100eight
$825 – volkl.com | SIZES (cm): 173, 181, 189 | DIMENSIONS (mm): 141/108/124 | WEIGHT/PAIR: 8.7 lbs. (181) | TESTED LENGTH: 173
[aesop_quote type="pull" background="#282828″ text="#ffffff" width="90%" align="left" size="1″ quote="A reliable ski that, once you find the sweet spot, needs to be driven aggressively. It heeds my call and slayed all that came my way—the Excalibur of touring skis. This will be my first-choice touring ski for next year. " cite="—Becca" parallax="off" direction="left" revealfx="off"]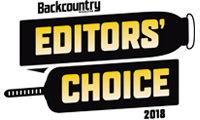 ---
DPS Yvette A112
$1,299 – dpsskis.com | SIZES (cm): 168, 178, 184, 189 | DIMENSIONS (mm): 141/112/128 | WEIGHT/PAIR: 8.4 lbs. (184) | TESTED LENGTH: 168
[aesop_quote type="pull" background="#282828″ text="#ffffff" width="90%" align="left" size="1″ quote="DPS's best Yvette ever! Finally, the construction matches the shape—no more floppy clown-shoe feel; these were fun on everything. They are still damp, and they bite at the snow even harder now. " cite="—Becca" parallax="off" direction="left" revealfx="off"]

---
---